Network Video Solution
NC2120 Network Camera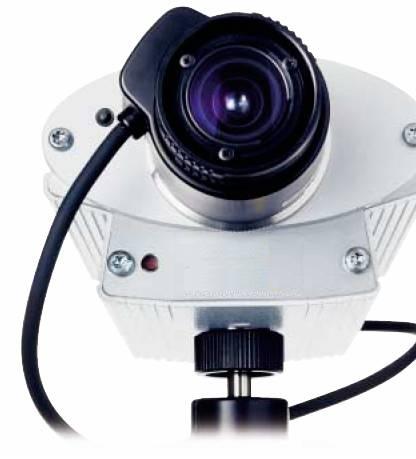 Catch it, web it, watch itíK
Complete with built-in web server and motion detection, the NC2120 Network Camera is all you need to keep a visual track of events both at home, and in the office. And of course íV it is the perfect tool for any web attraction application!
With no PC required for transmitting your images over the WAN/LAN or the Internet íV you're just a network plug away from live remote monitoring from any convenient desktop.
Features
DC-Iris lens for optimal image quality in outdoor light conditions
Built-in motion detection
Up to 30 frames per second
Built-in Web Server and network connection
View live images from any network-connected PC
Audio functionality available in combination with the AM2191 Audio Module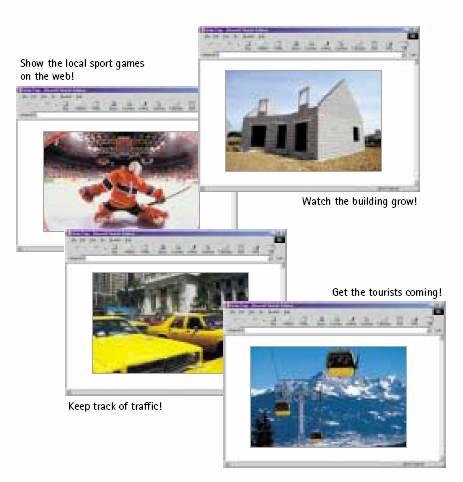 Technical Specifications - NC2120 Network Camera

General
Built-in web server and network interface.
No PC needed for operation.
Powerful video motion detection with multiple
sensitivity windows.
Linux-based operating system.
Installation
Quick and easy installation - connect to your
network, assign an IP-address or use the included null-modem cable for modem installation.
Camera
Digital, 24-bit color
Image sensor
1/3 inch Sony super HAD interlaced CCD
HxV: 768x495 (NTSC), 752x582 (PAL)
Resolution (pixels): 704x480 (NTSC), 704x576 (PAL)
Exposure
Backlight compensation
Automatic AGC
Automatic and fixed White Balance
Electronic shutter: 1/60s (1/50s)-1/10.000 sec., NTSC (PAL)
Sensitivity
Illumination range: 1 - 200,000 Lux with F1.0 DC-Iris lens.
About 1 to 5,000 Lux with fixed iris lens.
Lens
Standard CS mount lens fitting.
DC-Iris vari-focal (zoom) lens 3.5íV8.0mm eqv. to 25-55mm on a 35mm camera.
Ideal for outdoor monitoring (in outdoor housing).
Image
Image frame rate:up to 30 (25) frames at 352x240 (352x288) resolution.
Up to 12 (10) frames at 704x480 (704x576) resolution. NTSC (PAL).
JPEG still images and Motion-JPEG video.
High-speed hardware-based image compression, generating high quality JPEG images.
5 levels of compression are available. The file size of a JPEG compressed image depends on
the actual content of the image. Images containing a lot of detail will generate larger files. Image quality is controlled through the level of compression. High compression yields smaller files at the expense of image quality, while low compression results in larger files, but maintains image quality. The table below shows average file sizes, derived from real life tests.
Configurable maximum bandwidth limitation to prevent network saturation.
30 (25) frames/s typically requires about 1.5 Mbit/s.
General I/O
Accepts Dial-in and Dial-out access via external modem (modem not included).
Event triggered remote image storage via e-mail and F TP.
System Requirements
Compatible with operating systems such as Windows 98, Windows 2000, Windows XP,
Windows NT, Windows ME, Linux, Mac OS and Mac OS X.
Internet Explorer 4.x, 5.x, 6.x or Netscape Navigator 4.x.
Non-network, i.e. modem installation requires Windows PC with Dial-up networking.
Supported Protocols
TCP/IP, HTTP, FTP, SMTP, ARP, BOOTP, PPP, CHAP, PAP, DHCP and more.
Security
Password/username protection for restricted camera access
Hardware
ARTPEC-1 compression chip.
ETRAX 100 processor, 32 bit RISC, 100 MIPS CPU for high performance.
RAM: 16 MB.
FLASH PROM: 4MB.
Firmware Updates
Flash memory for simple upgrades and storage of user designed html files.
Connections
RJ 45twisted pair direct network connection for 100BaseTX Fast and 10BaseT Ethernet.
RS-232 port for modem connection or control of RS232 devices.
Input/Output connector to trigger the camera on external events,
e.g. a door sensor with a solenoid.
DC-Iris lens connector.
Control button for factory defaults.
Power Supply
External power supply connector 9-15V AC, min 10VA or 9-15V DC, min 8W.
Operating Environment
Requires proper environmental housing for outdoor use.
Temp: 5-50°C (40-122°F)
Humidity: 20-80 % RHG, non-condensing.
The DC-Iris lens must be used and correctly configured for use in environments where
strong light conditions prevail. Avoid aiming the camera directly towards extremely bright objects such as the sun, as this may damage the CCD image sensor.
Dimensions and Weight
Height: 57 mm (2.24")
Width: 86 mm (3.39")
Length: 138 + 45 mm (lens) (5.43" + 1.78")
Weight: 250 g (excl. power supply and tripod)
Approvals
EMC:
FCC Class A, Part 15 subpart B
CE:
EN55022 Class B, EN55024
Safety:
EN60950, UL, CSA
Accessories Included
DC-Iris variable focal length lens (3.5íV8.0mm).
Camera mini-tripod, using standard 1/4" nut.
Null modem cable for modem installation.
Power cord extension cable.
Power supply: 12V AC, 9.6 VA.
I/O connectors.
Rugged metal tripod.