Remote Access Server


Benefits
| | |
| --- | --- |
| | Turnkey remote access solution |
| | Easy to install and manage |
| | Establishes high-speed, seamless connections |
The RASFinder remote access server provides connectivity to the corporate LAN for telecommuters and mobile users. It provides 3 integrated V.90/56K modems or a hybrid of three BRI ISDN ports and six integrated V.90/56K modems. The RASFinder is an inexpensive, easily implemented turnkey remote access solution which is ideal for small companies and branch offices.


Features
| | |
| --- | --- |
| | Three integrated V.90/56K modems or three BRI ISDN ports with six integrated V.90/56K |
| | modems |
| | Supports dial-out for clients on IP/IPX networks using Windows |
| | PAP and CHAP authentication |
| | Easy-to-use GUI installation and management software included |
| | 10 Mb Ethernet connectivity to IP/IPX LANs |
| | Local and remote management using a Web browser, telnet, tftp or bundled management |
| | software |
| | RADIUS authentication and accounting support |
| | Flash memory on modems and server for easy updates |

Highlights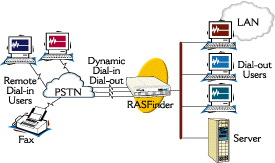 Turnkey Solution. The RASFinder includes three integrated modems for an easy 56K dial-up solution. The hybrid RASFinder delivers 56K and ISDN remote server support without costly T1/E1 or PRI ISDN lines. It automatically detects between an ISDN or 56K call, supporting up to six calls simultaneously. With both models, there is no hassling with the configuration of external modems - simply plug the box into your Ethernet network, and you're ready to go.
Shared Dial-Out Convenience. The RASFinder also provides dial-out support for PC users on IP or IPX networks. This means system administrators no longer have to dedicate a modem for LAN users who need to access information services. This also means branch offices can use the RASFinder to access the corporate LAN.
Secure Remote Access. The RASFinder has a built-in security database for user name and password authentication for all your remote users using PAP and CHAP. It also has a built-in RADIUS client for authentication to a RADIUS server. In addition, the RASFinder supports callback security.
End-to-End Remote Access. Our RASFinder and 56K or ISDN client modems are designed to work together for maximum throughput and optimum performance. What you get is hassle-free, seamless, end-to-end connectivity from one source. For your remote access client, select from our complete line of V.92/56K and ISDN modems.

Specifications
Models
MTASR3-200-GB - V.90, 3-Modem Turnkey RAS
RF300E - V.90, 3 BRI/6-Modem Turnkey RAS
LAN Port
Interface: 10BaseT or 10Base2 on MTASR3-200; 10BaseT on RF300E
WAN Ports
Interface: 3 built-in V.90/56K modems or 3 BRI ISDN ports with 6 V.90/56K modems
Data Rates
Modem Model: 33.6K bps upload & 33.6K bps download speeds from dial-in clients and non-V.90/K56 flex servers; 56K bps download speeds from digital V.90/K56flex servers (dial-out only)
Hybrid Model: 33.6K uploads and 56K download speeds from dial-in clients; 56K bps download speeds from digital V.90/K56flex servers (dial-out)
Standards
Data: V.90/K56flex, enhanced V.34 & below
Error Correction: V.42
Data Compression: MNP?Class 5; V.42bis
Operation
Line Type: Dial-up
Memory
RAM: 8 MB
Flash ROM: 2 MB on Modem Model; 4 MB on Hybrid Model
Electrical
110-240v AC - 47/63 Hz
Physical Description
Modem Model: 6.2" w x 1.4" h x 9.0" d; 2 lbs.
(15.8 cm x 3.6 cm x 22.9 cm; 0.9 kg)
Hybrid Model: 8.4" w x 2.3" h x 6.1" d; 1.6 lbs.
(21.3cm x 5.8cm x 15.5cm; 720g)
Temperature Range: 32 - 120°F(0-50°C)
Humidity Range: 25-85% noncondensing
Approvals
FCC Parts 15 & 68; EN55022; EN55024; EN60950; UL 1950; CE Mark