Scalable Communications Server for T1/E1 PRI Interfaces


Benefits
| | |
| --- | --- |
| | High-density, high speed remote access |
| | Easy to install and manage |
| | Channelized T1 and PRI ISDN for T1/E1 interfaces on one chassis |
| | V.92 dial-up connection support |
The MultiAccess Communications Server provides built-in V.92/56K dial-in and dial-out modem technology and digital channelized T1 and T1/E1 Primary Rate ISDN access in one system. It is ideal for Internet Service Providers and midsize to large corporate intranets requiring network/Internet access for remote offices, telecommuters and home users. As a full-featured remote access server, MultiAccess provides advanced security, web-based management features, and seamless interoperability with any TCP/IP network.



Features
| | |
| --- | --- |
| | Compact design supports up to four channelized T1 and/or T1/E1 PRI ISDN interfaces |
| | per rack unit |
| | Dial-in/dial-out scalability for up to 96/120 users |
| | Terminates both analog and digital (ISDN) calls |
| | Client authentication provided through industry standard RADIUS |
| | 10/100 Mb Ethernet LAN/WAN connectivity |
| | Simultaneous V.92/56K and BRI ISDN sessions |
| | V.92 modem-on-hold |
| | V.92 quick connect |
| | V.44 compression improves data throughput rates |
| | Industry-standard PPP client support |
| | PAP and CHAP authentication |
| | Secure, graphical local or remote management using HTTP, HTTPS or SSH |
| | Standard 19" rackmountable chassis (1U) |


Highlights
Internet Service Providers. MultiAccess offers a rock-solid solution for ISPs. Configure the various line interfaces to suit your environment, plug in your channelized T1 and/or T1/E1 PRI ISDN line and begin servicing your client base. The powerful hardware provides the ability to serve all calls with high performance and maximum throughput.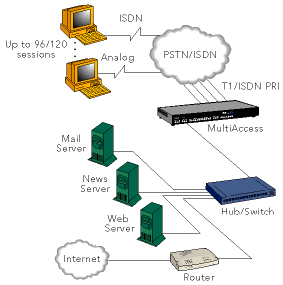 Dial-In/Dial-out Simplicity. MultiAccess makes it easy to provide remote access to your LAN for V.92/56K and BRI ISDN remote users. With the potential to support 96/120 concurrent sessions, this solution can easily support all of your dial-in telecommuters and road warriors. In addition, LAN users can share the MultiAccess ports for dial-out data connections.
Flexibility to Grow. MultiAccess can support up to four digital trunks (T1/RBS and/or T1/E1 PRI ISDN) and provide up to 96/120 ports per rack unit. This allows you to buy what you need today and populate with additional modems as your server needs grow.
Versatile Integration. MultiAccess supports channelized T1 and/or T1/E1 PRI ISDN services. All necessary software comes preinstalled and ready to be set up for your configuration.
WAN Communications. MultiAccess ships turnkey for channelized T1 or T1/E1 PRI ISDN and populated with 24 or 30 universal ports for V.92/56K and BRI ISDN dial-up connections. The high density modems provide V.92/56K dial-up speeds. In addition, they are manageable from remote locations using platform-independent, industry standard protocols.
Quick Connect. The quick connect feature reduces the dial-up connection time by as much as 50% for a modem to handshake to an ISP or other connection.
Modem-on-Hold. The modem-on-hold feature works in conjunction with call waiting provided by the phone company. Users can answer a new phone call for up to 16 minutes without dropping the modem connection. Users are then able to resume surfing the Internet after they terminate the voice call.
V.44 Compression. V.44 is a new data compression standard that can improve the current V.42bis data compression anywhere from 20 to 60%, up to as much as 200% for certain types of highly compressible data. This compression technique enables data throughput rates of higher than 300K bps - much faster than today'sístypical rates of 150 - 200K bps. For users, this means that your Web browsing will be much faster.
Management. MultiAccess includes robust management support allowing a network administrator to securely manage the devices either through a web browser or at the command line. The browser-based option uses the HTTPS protocol, also known as SSL (Secure Sockets Layer) to provide 128-bit encryption to secure the management session. The command line interface is accessible via SSH (Secure Shell) and supports SCP (Secure Copy) and SFTP (Secure File Transfer Protocol) to help provide maintenance support.
SNTP Support. MultiAccess also has a built-in Simple Network Time Protocol (SNTP) client which enables it to synchronize its clocking with a remote time/clock server on the Internet. This feature is useful for accounting purposes.

Specifications
Models
MA30120 - Turnkey 24/30-port T1/E1/PRI Server
MA30EXP - 24/30-port expansion module for MA30120
System
Processor: 600 MHz Celeron
RAM: 256 MB
LAN/WAN Port
Interface: 2 x 10/100BaseT
Server Operating System
Linux
System Management
Web based (HTTPS/SSL)
Security
PAP, CHAP, & Industry standard RADIUS support
Modem
Data Rates: V.92/56K, enhanced V.34/33.6K; higher bandwidths available with multiple bonded analog modem connections
Error Correction: V.42
Data Compression: V.44, V.42bis, MNP™Class 5
Dial-Out: Telnet (RFC2217)
ISDN PRI
Channels: 23 (T1 PRI) or 30 (T1/E1 PRI)
Bandwidth: 64K bps per channel
ISDN Interface: Four-wire
B-Channel Protocols: PPP, ML-PPP, V.110
Switch Types: NI2, 4ESS, 5ESS custom, DMS100, ETSI, VN6, NTT
T1 Frame Formats: Extended Super Frame (ESF), 12 Frame Multiframe (F12), 4 Frame Multiframe (F4), & 72 Frame Multiframe's Remote Switch Mode (F72)
T1 Line Code: AMI or B8ZS
E1 Frame Formats: Extended Super Frame (ESF)w/CRC4, Extended Super Frame (ESF)w/o CRC4 (Double Fame)
E1 Line Code: AMI or HDB3
Channelized T1
Channels: 24 DSU/CSU operation for T1 WAN service
Frame Format: Extended Super Frame (ESF), 12 Frame Multiframe (F12), 4 Frame Multiframe (F4), & 72 Frame Multiframe's Remote Switch Mode (F72)
Line Code: AMI or B8ZS
FXS Signaling Methods: E&M Immediate, E&M Wink, ground start, loop start
Electrical
100v AC - 240 v AC; 50/60 Hz universal input
Physical Description
17" w x 1.75" h x 10.5" d; 10 lbs. (1U rack mountable)
(43.18 cm x 4.45 cm x 26.67 cm; 4.54 kg)
Operating Environment
32°- 120°F (0°- 50°C); relative humidity 25-85% noncondensing
Approvals
CE Mark
EMC: FCC Part 15 (Class A), EN55022, EN55024, EN61000-3-2, EN61000-3-3
Safety: UL60950, EN60950
Telecom: CS03, FCC Part 68, TBR4