BRI/Analog Communications Server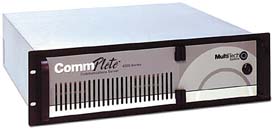 Operating Environment
| | |
| --- | --- |
| | A complete end-to-end remote access solution |
| | Easily scaled |
| | High-speed V.90/56K and/or BRI ISDN connectivity |
| | Full-featured, dial-up RAS with RASExpress software |
The CommPlete 4000 communications server family provides up to 32 high-speed dial-in/dial-out sessions. This server supports BRI ISDN service for a true digital solution, analog service or both WAN services, making it ideal for small- and medium-sized businesses.


Features
| | |
| --- | --- |
| | Scalable to 32 dial-in/dial-out analog or ISDN ports using multi serial, analog modem or |
| | hybrid ISDN/56K modem server cards |
| | Modem models support V.92/56K dial-out and V.34/33.6K dial-in connections |
| | BRI model supports V.90/56K dial-in/dial-out connections |
| | RASExpress remote access server software has a built-in client for authentication to third- |
| | party RADIUS/TACACS+ servers and a bundled RADIUS server application for installations not currently using RADIUS security |
| | PAP and CHAP authentication |
| | Server-side channel bonding (ML-PPP) |
| | 10/100 Mb Ethernet connectivity to an IP/IPX LAN |
| | Supports dial-out for clients on IP/IPX networks using Windows |
| | Local and remote configuration and management using Web browser, terminal, modem, |
| | telnet, ftp, SNMP or bundled management software |
| | Factory installation and testing of the complete system as ordered |
| | Standard 19-inch rackmountable chassis |
| | Integrated universal input power supply |

Applications

Dial-In Remote Access. The CommPlete 4000 makes it easy to provide remote access to your small or midsize LAN for V.90/56K and BRI ISDN remote users. With the potential to support up to 32 concurrent sessions, this solution can support dial-in telecommuters and road warriors as well as dial-out LAN users.
Dial-out Data/Fax Services. LAN users on IP or IPX LANs have pooled dial-out access for desktop data or fax communications. This eliminates the cost and hassle of installing and maintaining modems and phone lines for every desktop.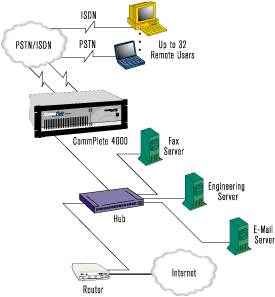 LAN-to-LAN Routing. RASExpress supports LAN-to-LAN routing using ML-PPP to aggregate ISDN or analog channels for up to 320K data transfers.
Internet Service Providers. If you are a growing Internet service provider or have remote points-of-presence (POPs), this solution can cost-effectively provide ISDN or 56K analog dial-up access.

System Architecture

Flexible. The CommPlete 4000's flexible design lets you support from eight to 32 dial-in/dial-out sessions over analog and/or BRI ISDN WAN connections. With four industry-standard PCI slots, you can use any combination of modem, serial and BRI ISDN server cards to suit your application.
High-Speed. To support the fastest speeds possible today, the CommPlete 4000 with a hybrid card provides digital V.90/56K server support for dial-in users. One BRI ISDN connection will support 64K or 128K bi-directional speeds. Multiple analog connections can provide up to 100K downloads when aggregated.
Affordable. The CommPlete 4000 provides cost-effective ISDN and V.90/56K connectivity without costly PRI ISDN or T1 services. The CommPlete 4000 with a V.92/56K modem card is ideal for areas that do not have ISDN. For businesses looking to use modems they already own, the CommPlete serial card model preserves previous hardware investments.
Scalable. The CommPlete 4000 is designed for scalability. When more ports are needed, simply install a MultiModemISI or Intelligent Serial Interface server card. RASExpress software automatically recognizes the card and adds it to the server configuration. After you assign IP addresses to the new ports, the new card can start handling dial-in and dial-out calls.
No Hidden Costs. There are no additional server or client licenses to buy¡Xeven if you add more ports later. All models include all of the memory required to run a fully loaded system. All remote access server software upgrades for RASExpress are free.
Comprehensive Management. The CommPlete 4000 running RASExpress remote access software provides effortless management and extensive reporting using a web browser, a Windows-based GUI, telnet or SNMP. The management tools provide features for experienced and inexperienced network administrators to effectively manage remote access.

Solution Options

The fully tested and supported CommPlete 4000 solutions let you select analog and/or BRI ISDN WAN services to support V.90/56K and BRI ISDN dial-in/dial-out users. Each model includes everything you'll need to support up to eight concurrent dial-in/dial-out sessions.

System Components

Server Chassis. The CommPlete 4000 server includes an industry-standard single board computer with four additional PCI slots, an integrated 10/100 Ethernet NIC, a high performance processor, memory and preinstalled RASExpress remote access software. A 3.5" floppy drive, hard drive and universal power supply are also included.
Modem and Hybrid Server Cards. These multiport modem and hybrid cards put V.92/56K modems or hybrid ISDN and V.90/56K modems on a card for remote access servers like the CommPlete 4000. These industry-standard, PCI-bus cards are maximized to work with today's servers, network operating systems and adapter card technologies. Use the MultiModemISI or Intelligent Serial Interface cards (see below) to add more ports to the CommPlete.
In addition to on-board built-in V.90/56K and/or BRI ISDN modems, these cards feature:



Class 1 & Class 2 faxing at 14.4.K (V.34/33.6K fax on modem models)


Sustained data rates to 230K per port

The hybrid server cards also let you provide V.90/56K digital server support with BRI ISDN WAN services and optionally support laptop users with GSM cellular service.
Serial Server Cards. The Intelligent Serial Interface multiport serial cards feature built-in speed and data handling efficiencies that keep pace with today's high-speed modems. These cards sustain data rates to 460.8K per port and include the serial cable, as well.

RASExpress Remote Access Software

Dial-In/Dial-Out Simplicity. The preconfigured RASExpress remote access server software works with the CommPlete 4000 to provide easy dial-up remote access for up to 32 users. It supports PPP and SLIP clients and IP and IPX routing. LAN users on IP and IPX networks can share the CommPlete 4000 ports for data and fax applications using RASExpress.
ML-PPP Maximizes Connection Speeds. For dial-in users running demanding applications requiring more bandwidth, RASExpress supports up to 100K bps (analog) and 128K (ISDN) sessions. RASExpress aggregates multiple connections into one high-speed connection when a user connects to the server with two analog modems and two phone lines or two ISDN B-channels and one ISDN modem.
PPTP Tunneling Support for VPNs. RASExpress lets you fully support tunneling on a Microsoft virtual private network (VPN), which means ISPs can offer their corporate users the security they may require.
Management Made Easy. RASExpress gives you the flexibility to monitor, control, and gather statistics using your preferred management approach with support for embedded Web, telnet, ftp servers and SNMP agent.
SNTP Support. RASExpress also has a built-in Simple Network Time Protocol (SNTP) client which enables RASExpress to synchronize its clocking with a remote time/clock server on the Internet. This feature is useful for accounting purposes.
Comprehensive Security. RASExpress has a built-in security database for authentication and authorization of thousands of user profiles using PAP and CHAP. It also has a built-in RADIUS client for authentication where installations are using a RADIUS server. For installations not currently using RADIUS security, a bundled RADIUS server application for installation on a Windows NT server provides added security.


Specifications
Models
Servers:
CC4M-8-GB - V.92, 8-Modem RAS
CC4S-8-GB - 8-Serial Port RAS
CC4H-4S-GB - V.90/4 BRI 8-Modem RAS (S/T)
Server Cards:
ISI5634PCI/8-GB - V.92, 8-Modem Card (PCI)
ISIHP-4S - V.90/4 BRI 8-Modem Card (PCI)
ISI4608-PCI - 8-Port Serial Card (PCI)
Chassis
Description: Metal construction with vent holes, built-in mounting brackets, locking hinged front cover
Power Supply: 250W
Cooling Fans: 2 fans, 25 cfm each
Backplane: Passive with 4 PCI, one PCI/ISA and one SBC PCI/ISA slot
Drives: One 3.5¡¨ floppy & one IDE hard drive
Connectors: 40-pin dual IDE, 36-pin floppy, 9-pin COM1 & COM2, 25-pin LPT1 ribbon cables, 6-pin mini-DIN keyboard & high-density 15-pin DWUB video
Electrical: 115/230v AC; 50/60 Hz universal input
Dimensions: 19.0"w x 5.3"h x 17"d; 22 lbs.(48.3 cm x 13.3 cm x 43.2 cm; 10 kg)
Operating Temperature: 32 ¡V 120°F (0-50°C)
Humidity Range: 10 ¡V 90% noncondensing
System Management: Web browser, telnet, ftp, SNMP or bundled MultiManager for Windows
Protocols
Client: PPP & SLIP
LAN: TCP/IP & IPX routing
SBC
Video: SVGA; DB15F connector
Keyboard: 101-style; 6-pin mini-DIN connector
Ports: COM1, COM2, & LPT1
Drive Controllers: Floppy & IDE
Ethernet NIC
Type: 10/100BaseT PCI-bus NIC
Compliance: IEEE 802.2 and 802.3
Modem Card
Ports: Eight
Error Correction: V.42, MNP?Class 3 & 4
Data Compression: MNP Class 5, V.42bis
Fax: V.34, Class 2.1 and 1.0, V.17 or V.29, Group 3, Class 1 or Class 2
Serial Card
Ports: Eight
Rates: To 460K per port
Cable: Fan-out serial cable included
ISDN/Modem Hybrid Card
BRI ISDN Ports: Four RJ-45s on the ISIHP-4S; 230K data rates
Rate: 64K bps on each B-channel
Interface: 4-wire S/T-type interface on the ISIHP-4S
D-Channel Protocols: National ISDN-1, AT&T 5ESS Custom, Northern Telecom DMS-100 Custom, DSS1 (Euro-ISDN), & INS 64 (Japan)
B-Channel Protocols: ML-PPP, V.120, V.110 & X.75