Highlights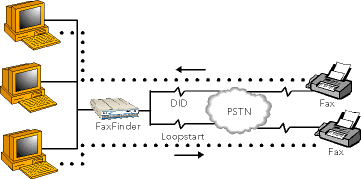 Faxes Routed Directly to the Desktop.

allows you to receive faxes as TIFF files through any SMTP compatible e-mail system. This capability is a function of Direct Inward Dial (DID) which allows the use of a block of telephone numbers, larger than the number of physical telephone lines, for direct dialing to extensions. With DID, every network user gets assigned an individual fax phone number since it allows multiple phone numbers to be placed on a single phone line. The last 3 or 4 digits of that number correspond to the individual's fax extension. Senders simply dial the individual's fax telephone number (no special procedures are required). The fax server automatically delivers the incoming fax to the user over the local area network. Once received, users can view the fax, print the fax, forward as an e-mail to another e-mail user, or re-fax it out.
Sending Faxes.

software allows the user to compose a fax from any application that utilizes a printer. To send, the user simply prints the document to

software, selects a cover page (or create their own) and enters a destination telephone number for the fax. The user can build one fax of multiple documents from multiple applications, as well as schedule faxes to be sent at a later time. In addition, address books can be synchronized with Microsoft Outlook for ease of delivery.
Improved Efficiency and Security. With

, faxes are delivered by the network fax server to the client desktop as soon as they are received. Time-wasted trips to the fax machine are eliminated. In addition,

offers a high degree of security for both the sender and the recipient.
Enhanced Fax Features.

utilizes Super G3 V.34 fax speeds of 33.6K bps, more than double the speed of V.17/14.4K bps fax. Also the support of error correction mode (ECM) ensures error free faxing.
Web Server Interface for Configuration and Management.

's web server interface provides for easy set-up and configuration. In addition, it provides the ability to view the current status of fax lines as well as a history of past fax activity. E-mails inform the user of a failed transmission.